How to Find a Foundation Repair Company in San Diego
Our homes are usually our biggest investments. They protect our belongings and shelter our loved ones. When there is a foundation problem, it can affect the rest of the house. If you are in need of a foundation repair company in San Diego, we are here to help.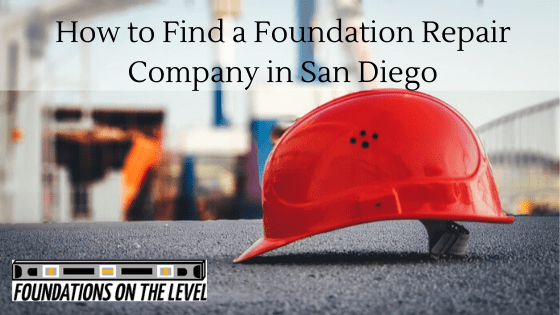 Discovering you have a foundation problem can be scary, but if you have the right contractor, the process can be a little less frightening. Ignoring the problem won't make it go away and it won't heal itself. The longer the problem goes, the more money and time it will take to repair your home.
A small problem can turn into a big problem. It's better to have the original issue repaired before it turns into a larger structural issue.
What Does a Foundation Repair Contractor Do?
If you're going to hire a foundation repair contractor to work on your San Diego home, it makes sense that you would want to know what they do. You must educate yourself so that you know whether a contractor is trustworthy or trying to scam you.
A good foundation contractor can handle most any repair that has to deal with foundation problems. For example, they can repair floor and wall cracks, lift sunken slabs, and repair brick or concrete walls.
When they are done repairing your concrete, your misaligned doors and windows should be back to normal, cracks should no longer be leaking, and floors should be level.
If the foundation contractor is reliable, they'll not only repair any damage but fix the cause of the problems. It doesn't do any good to patch a crack if the foundation is going to continue to settle and cause more damage.
What to Look For in a Reliable Foundation Contractor in San Diego
Before we get too far into how to select a good foundation repair company, let's get one thing out of the way. Don't hire a company based solely on them having the lowest bid. Your home's stability is not the place to cut corners.
If a contractor's bid seems too good to be true, it probably is. If a contractor cuts costs through cheap materials, taking shortcuts, or not taking all the necessary steps for a complete repair, you and your family could be in danger. A trustworthy and honest contractor will be upfront with the costs and show you why their bid is the way it is.
Here are some other things to look for when shopping for a foundation contractor in the San Diego area.
Customizes the Solution to Your Situation
An honest contractor will inspect your property and provide you with a solution and estimate. (Most good ones will provide this service for free.) Once they inspect your foundation they will determine what is causing the problem and the best way to fix it.
If you tell a contractor that your home has foundation problems and they tell you what the solution is, move on to the next company. There are different ways to take care of foundation issues. Your home may need resistance or helical piers, wall anchors, or slab leveling, depending on the situation.
If the wrong solution is used, you may have even bigger problems in the future. One-size-fits-all does not work for foundation repairs.
Uses Quality Foundation Repair Products
At Foundations on the Level, we utilize American Made foundation products of the highest quality from Earth Contact Products, also known as ECP. ECP's foundation repair solutions such as helical piers, helical anchors, push piers, and more, have shown over time to be strong, reliable, and long lasting. When you know that the workmanship and the products are both top notch, you know you will be able to breath a sigh of relief when the job is done.
Provides a Good Warranty
If you do your homework, you will probably hire a reliable contractor that does good work. That doesn't, however, mean you shouldn't protect yourself. A good contractor will offer a warranty that covers the work done. The contractor doesn't want to do repairs for free, so by offering a warranty, they are showing that they have confidence in their work.
A good warranty shows that the contractor stands behind their work and wants you to be confident in your repairs.
Experience, Skill, and Knowledge
The most important things a contractor can bring to a repair aren't tools or products. The experience, skill, and knowledge of their workers play a big part in how the repair is going to go. The contractor must know a lot of technical information to make sure the repair matches what your building needs.
When looking at foundation repair contractors in the San Diego area, look at how long they've been in business. Companies that have been around for a long time, not only must have satisfied customers, but they've experienced and worked with just about any situation you can imagine.
Choose the Right Foundation Repair Company in San Diego
The more you know about your foundation and home, the better prepared you will be when talking with potential contractors. A good foundation repair contractor will work with you from beginning to end, keeping you informed about what has happened, what is being done, and what to expect next.
FOUNDATIONS ON THE LEVEL would like to be your foundation repair contractor. However, we also want you to be comfortable with your decision. We're confident in our work and reputation and welcome you to look at all of your options. We think you'll be happy working with us and satisfied with the results.
Contact us today to learn more about foundation repair for your San Diego home.