Repairing Cracked Foundations
Foundation cracks are a common foundation problem in California. Our climate is hot and dry, which doesn't make for great support for foundations. While foundation problems are never a fun thing to go through, you can rest assured Foundations On The Level has the tools and experience when it comes to repairing cracked foundations.
Process of Repairing Cracked Foundations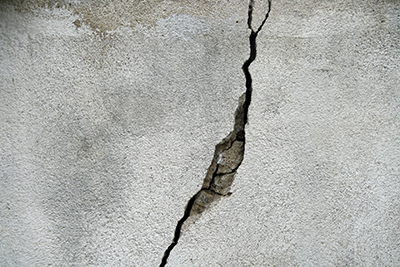 The Inspection
Before we begin work on your foundation, we'll first want to inspect it. Foundation inspections ensure that we understand the underlying cause of the problem. This will help us choose the right repair method for your specific problems, and to be able to provide an estimated cost for repairs.
Determining the Best Repair Method
There are different types of foundation cracks that require different materials and repair methods. For instance, if you have an active foundation crack that is expanding and growing longer in length, we will need to address the issue of movement, as well as actually repair the crack itself.
Repairing Foundation Cracks
Depending on the method used, and the size of the project, repairing foundation is a fairly quick process. Once we're able to determine the best repair method and gather materials, we can usually complete repairs fairly quickly.
If piers are needed to stabilize or lift your foundation, we will dig out targeted areas around your foundation in order to place the piers where they need to go. We use small excavation equipment, or shovels in order to keep your property and landscaping intact.
Once the piers are in place and at depth, we can then transfer the load of your home onto the piers and begin the lifting process if necessary. During the lifting process, we monitor each pier location's progress to ensure we are lifting everything effectively and safely.
Contact Foundations On The Level to Repair Cracked Foundations
Have you noticed cracks in your foundation? Contact us today to set up a time for an inspection. We'll be happy to work with you to come up with a safe and effective foundation repair strategy.