Underpinning Helps DoubleTree by Hilton Hotel at Berkeley Marina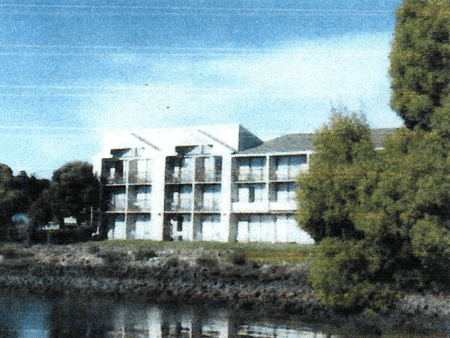 FOUNDATIONS ON THE LEVEL was part of a huge project to use underpinning to fix a sinking hotel. The DoubleTree by Hilton Hotel at Berkeley Marina is located less than 5 miles from Emeryville and only 20 minutes from the Oakland International Airport. The hotel is situated on Berkeley Marina.
In early 2011, Helfrich-Associates was asked to examine the hotel and evaluate the structural integrity of a portion of the hotel.
Uneven soil conditions caused tilting
The hotel, built in the 1970s, had a building that was suffering from tilting due to uneven soil conditions.
The building in question, No. 3, was built on a 12-inch thick, reinforced mat foundation that was not sufficient to deal with the settling of soft soils. As a result, the building had tilted more than 20 inches.
Built over a former landfill, the hotel was as close as 20 feet from the bay. Over the years, differential settlement had caused cracking of floor tiles, racking of doors and window frames, separation between cabinets and walls, and roof runoff to enter the building.
The project included analyzing the structural conditions of the building, determining subsurface conditions below the building, evaluating the tilting history of the building, and preparing foundation lifting and stabilization recommendations.
Building now supported on deeper, more uniform soil
Helfrich-Associates determined the best way to level the building was to design and have Foundations On The Level implement a deep underpinning solution to support the building on deeper, more uniform soils.
The proposed solution included building a new foundation under the existing foundation using 3-inch diameter steel resistance piers.
This type of system is installed by using the weight of the building as a reaction force to push the piers into the ground until they reach sufficient resistance.
Due to the very soft soil conditions – combined with the weight of the building (more than 10,000 tons) – the solution required the installation of 252 resistance piers.