Home > Service Area > San Diego
San Diego's Foundation Repair & Concrete Experts
If you are a property owner looking for a free, no-obligation inspection and report for foundation repair, cracked slab repair, concrete lifting, or retaining wall repair in San Diego, CA, contact FOUNDATIONS ON THE LEVEL today. We offer quality services for home and business owners in the greater San Diego area. Our expert foundation repair contractors are trained, licensed, and experienced in the latest structural repair methods. Give us a call today or fill out our form to get started with your free quote.
Our Services
San Diego's Foundation Repair Contractor
Many California residents struggle with foundation problems because of rich clay soils and seismic activity. Unfortunately, these things can cause a foundation, concrete slab, or retaining wall to settle and become unstable.
If water has pooled up around your home from heavy rainfall, poor drainage, or plumbing leaks, this can be a serious issue that causes many problems with your foundation. If you are suspicious of foundation failure in your home, be sure to look out for the following signs:
Cracks in the walls, floors, ceiling
Uneven or sloping floors
Doors and windows that stick
Misaligned trim
Bowing or leaning walls
Gaps and spaces between doors and frames
Crumbling or flaking foundation
Read more about signs your foundation may be failing.
Our Foundation Repair Solutions
If your home is suffering from any of the symptoms of foundation problems, FOUNDATIONS ON THE LEVEL can install cutting-edge products for a permanent solution. Partnered with leading manufacturers like Roklin, Fortress, Accella, and ECP, we have access to the latest products and techniques that will permanently stabilize your home.
We use resistance piers, also known as push piers, and helical piers to provide your foundation with long-lasting strength and stability, keeping the structure of your home safe and intact. Resistance piers consist of a series of steel rods or bars that are driven down either to bedrock or to a load-bearing strata of soil. They have a bracket on top to attach to your home or business.
Helical piers resemble push piers except for one addition. They have helical plates attached to the rods that give them the appearance of screws. That's why they are also known as screw piers. Instead of being driven into the soil like resistance piers, helical piers are "screwed" into the soil. The installation method comes with a bonus: the torque readings during installation allow us to calculate when the piers have reached a depth as which they can support the weight of your house. We leave nothing to chance when it comes to your foundation.
Read more about our foundation underpinning products
Our Foundation Repair Process
Here is what you can expect if you hire FOUNDATIONS ON THE LEVEL to repair your foundation:
The Inspection:

It makes no sense to begin foundation repairs without first doing an inspection of your home. Even if your home is having some of the symptoms mentioned above, there is no way to know for sure what the problem is without first laying eyes on it ourselves. Second, if we determine that the problem is indeed with the foundation, we need the inspection to determine the extent of the damage and which foundation repair solution will work best for you.

The Excavation:

While piers are a less invasive form of foundation repair than some of the older methods that involve poured concrete, they still must be driven into the ground and attached to the building's footings. That requires us to make excavations at the points where we have determined the piers will be installed to both expose the foundation and give us space to drive or screw the piers into the ground and then attach the bracket.

The Installation:

Once the holes have been dug, we can start sinking the piers into the ground, taking readings as we do to make sure they are deep enough and in stable enough soil to support your home's weight. Once again, we don't do guesswork when it comes to your foundation. When we are certain the piers are deep enough, we attach the bracket to the footer or foundation, transferring the load off of the soil and onto the pier. It is then lifted hydraulically so the foundation is returned to level

The Clean-Up:

After installation is complete, the load has been transferred and the piers tested, we then refill the holes and compact the dirt to clean up the site
FOUNDATIONS ON THE LEVEL is your expert foundation repair contractor in San Diego, California, and surrounding areas. Call us today with any questions that you have about foundation repair.
Read More About Our Foundation Repair Services
Cracked Slab Repair & Concrete Leveling
Here at FOUNDATIONS ON THE LEVEL, we offer expert concrete leveling services for your cracked and sinking slabs. Whether your driveway is uneven or your porch steps are separated from your stoop, we can fix it.
Lifting and Leveling Sunken Concrete Slabs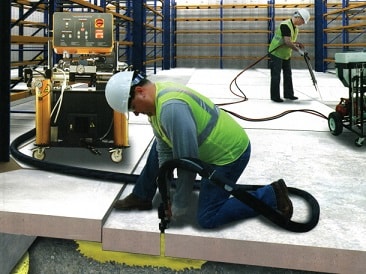 For all of our slab lifting and repair services, we use Low-Density Water-Blown Spray Foam by Accella Polyurethane Systems, a trusted and professional manufacturing company in the concrete industry today. When this foam is injected under your concrete, it will expand to fill all of the voids in the soil below and hydraulically raise it back to its original level. It cures very quickly, and you will be able to use your concrete slab again in no time at all!
We can level a wide variety of concrete slabs with foam, including:
Driveways
Home Foundation Slabs
Garage Slabs
Steps
Pool Decks
Roads
Parking Lots
Patios
Sidewalks
We drill small holes in the concrete slab at the points our inspection has determined the foam needs to be injected. We then begin injecting the foam, which expands underneath the slab. We carefully monitor the process to avoid over-lifting and achieve a precision result that removes unsightly tripping hazards.
If you are looking for a concrete leveling contractor in San Diego, CA, be sure to call the expert team at FOUNDATIONS ON THE LEVEL. We offer free inspections and reports to property owners for all of our services.
Read more about our slab leveling services.
Cracked Slab Repair
If you have noticed cracks starting to form around your San Diego home, you might be in danger of extreme structural damage. Even the smallest crack can indicate something much worse. That's why it is important to have your slab cracks inspected as soon as they are noticed. Our professional team here at FOUNDATIONS ON THE LEVEL can do that for you. We are extremely knowledgeable about all types of cracks, and we can implement the proper repairs for your home.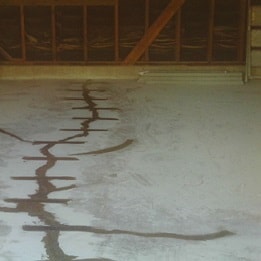 When cracks are left unrepaired, they can worsen over time and allow water and insects to enter your home. As they become larger, more cracks can form out of them. Get your cracks repaired by FOUNDATIONS ON THE LEVEL as soon as possible. We repair cracks by sealing them with a Roklin Dual Component Epoxy. Once the crack is welded closed, it is smoothed out. Then, the repaired crack is stitched across every 18 inches with Fortress Carbon Fiber Staples. This process is completed with such a smooth surface that you can install any type of flooring after repairs are finished.
Read more about our crack repair services.
Retaining Wall Repair
FOUNDATIONS ON THE LEVEL also offers retaining wall repair for your failing walls. We use helical tiebacks to give them unmatched support. The helical tiebacks are installed into retained soil and are tensioned once they retain the right capacity ratio of the soil strength. Here are some advantages of using helical tiebacks:
Immense capacity to strengthen and stabilize retaining wall

Weather-proof

No curing time or cleanup needed

Can be simply and quickly installed

No waste as tiebacks can be removed for future projects
Read more about our retaining wall repair options.
Why Choose FOUNDATIONS ON THE LEVEL
No two foundations are the same, and since FOUNDATIONS ON THE LEVEL values the investment of your home, we offer the personalized and quality service that you deserve. Whether you are facing a minor foundation crack or complete structural failure, we are here to help every step of the way. From the initial inspection to the completion of the project, you will find our team professional, timely, and easy to communicate with. We are the foundation repair experts in Southern California serving San Diego County and Orange County.
Contact us today
to schedule a free estimate.