Home > Service Area > San Diego
SAN DIEGO, CA FOUNDATION & CONCRETE EXPERTS
If you are a property owner looking for a free, no-obligation inspection and report for foundation repair, cracked slab repair, concrete lifting, or retaining wall repair in San Diego, CA, contact FOUNDATIONS ON THE LEVEL today. We offer quality services for home and business owners in the greater San Diego area. Our expert foundation repair contractors are trained, licensed, and experienced to perform the latest structural repair methods. Give us a call today or fill out our form to get started with your free quote.
Foundation Repair
Many California residents struggle with foundation problems because of rich clay soils and seismic activity. Unfortunately, these things can cause a foundation, concrete slab, or retaining wall to settle and become unstable.
If water has pooled up around your home from heavy rainfall, poor drainage, or plumbing leaks, this can be a serious issue that causes many problems with your foundation. If you are suspicious of foundation failure in your home, be sure to look out for the following signs:
Cracks in the walls, floors, ceiling
Uneven or sloping floors
Doors and windows that stick
Misaligned trim
Bowing or leaning walls
Gaps and spaces between doors and frames
Crumbling or flaking foundation
If your home is suffering from any of the issues above, FOUNDATIONS ON THE LEVEL can install cutting-edge products for a permanent solution. Partnered with leading manufacturers like Roklin, Fortress, Accella, and ECP, we have access to the latest products and techniques that will permanently stabilize your home.
We use resistance piers and helical piers to provide your foundation with long-lasting strength and stability, keeping the structure of your home safe and intact. FOUNDATIONS ON THE LEVEL is your expert foundation repair contractor in San Diego, California and surrounding areas. Call us today with any questions that you have about foundation repair.
Cracked Slab Repair & Concrete Leveling
Here at FOUNDATIONS ON THE LEVEL, we have expert slab leveling services for your cracked and sinking concrete. Whether your driveway is uneven or your porch steps are separated from your stoop, we can fix it.
Lifting and Leveling Sunken Concrete Slabs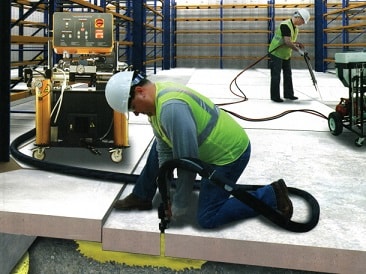 For all of our slab lifting and repair services, we use Low-Density Water-Blown Spray Foam by Accella Polyurethane Systems, a trusted and professional manufacturing company in the concrete industry today. When this foam is injected into your concrete, it will expand to fill all of the voids and hydraulically raise it back to its original level. It cures very quickly and you will be able to use your concrete slab again in no time at all!
If you are looking for a concrete leveling contractor in San Diego, CA, be sure to call the expert team at FOUNDATIONS ON THE LEVEL. We offer free inspections and reports to property owners for all of our services.
Cracked Slab Repair

If you have noticed cracks starting to form around your San Diego home, you might be in danger of extreme structural damage. Even the smallest crack can indicate something much worse. That's why it is important to have your slab cracks inspected as soon as they are noticed. Our professional team here at FOUNDATIONS ON THE LEVEL can do that for you. We are extremely knowledgeable about all types of cracks, and we can implement the proper repairs for your home.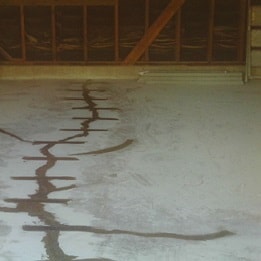 When cracks are left unrepaired, they can worsen over time and allow water and insects to enter your home. As they become larger, more cracks can form out of them. Get your cracks repaired by FOUNDATIONS ON THE LEVEL as soon as possible. We repair cracks by sealing them with a Roklin Dual Component Epoxy. Once the crack is welded closed, it is smoothed out. Then, the repaired crack is stitched across every 18 inches with Fortress Carbon Fiber Staples. This process is completed with such a smooth surface that you can install any type of flooring after repairs are finished.
Retaining Wall Repair
FOUNDATIONS ON THE LEVEL also offers retaining wall repair for your failing walls. We use helical tiebacks to give them unmatched support. The helical tiebacks are installed into retained soil and are tensioned once they retain the right capacity ratio of the soil strength. Here are some advantages of using helical tiebacks:
Immense capacity to strengthen and stabilize retaining wall

Weather-proof

No curing time or cleanup needed

Can be simply and quickly installed

Tiebacks can be removed for future projects
For all of your foundation repair, slab leveling, crack repair, and retaining wall repair needs in San Diego, CA, let FOUNDATIONS ON THE LEVEL be your number one choice. We proudly serve customers in San Diego County as well as Orange County, Southern California.