Polyurethane Injection to Raise Slabs
A sunken or uneven slab can cause problems ranging from being unsightly to being a tripping hazard to causing structural damage. In the past, many people would just tear up their old concrete and replace it with a new slab. Removing and replacing a slab is time-consuming, messy, and expensive. Also, it doesn't take care of the problem that caused the concrete to sink in the first place. This is where polyurethane injection comes in.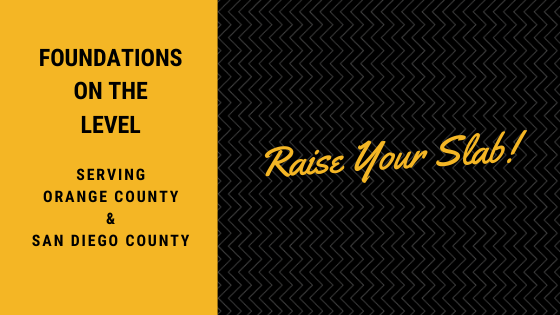 FOUNDATIONS ON THE LEVEL uses polyurethane injections to raise your slab. This method takes less time, involves less labor, and costs less money than tearing up and replacing a concrete slab. In addition, it can take care of the underlying issues that caused the slab to settle.
Polyurethane Injection: Lift and Level Your Slab
We are proud to use a product made by one of the industry leaders, Accella. Their low-density polyurethane foam was developed to meet all slab leveling and raising needs. The foam uses blowing agents that use zero ozone-depleting solvents, so it's better for the environment than some other products our competitors use, without sacrificing effectiveness.
The pros at FOUNDATIONS ON THE LEVEL have the tools and knowledge to raise and level your concrete anywhere in the Orange and San Diego County area. We've lifted all kinds of slabs including the list below and more.
Driveways
Foundation Slabs
Steps
Pool Decks
Roads
Parking Lots
Patios
Sidewalks
A Durable Solution for a Sunken Slab
After inspecting your property for free, we'll determine the cause of your sunken slab and provide you with an estimate for the best solution. If using the polymer foam is the best solution, the process will be completed quickly, with little disruption to your property.
Small holes are drilled into the concrete and the foam is injected beneath the concrete. The foam spreads out, filling any voids below the slab. Once the voids are filled, the foam will continue to expand, compressing any loose soil supporting the concrete. The foam is hydrophobic, so it won't erode and will dispel any water it encounters. The foam also seals any cracks on the underside of the concrete. The slab is then lifted to within a fraction of inch of the desired height.
Once the slab is at the desired height, the equipment is removed and the holes are filled. The foam takes around 15 minutes to cure, so once everything is cleaned up, you can use the concrete surface like normal.
Contact us to learn more about lifting your concrete slab by polyurethane injection in the San Diego County and Orange County area.