The Proof is in the Experience
We've recently added two new things to our website to show you just how serious we are about what we do.
Our Profile
We've added our company profile with all of our license information and a rundown on our experience in the foundation repair industry. This document also includes our insurance information and more work experience examples. We can back up what we do with the experience and credentials needed in our industry and we just wanted to share this with you!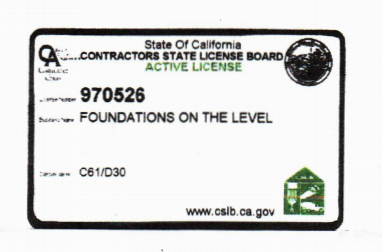 Case Studies
The second thing that we added is two new case studies, with more to come, showcasing our foundation repair work here in California. We've been lucky enough to be a part of some incredible jobs with equally incredible clientele. You can read about our work on The DoubleTree by Hilton Hotel at Berkeley Marina as well as a really unique job we did at a Laguna Beach Home with a natural cave right below it. We are up to these challenging jobs!
To learn more or to ask us questions about our case studies, please feel free to contact us!