Home > Services > Retaining Walls
Retaining Wall Repair
A retaining wall can not only make your place look better, but it can help protect your home, business, and property. And if yours begins to show signs of failing, it is crucial to get your retaining wall repaired.
Retaining walls keep the soil from sliding downhill. This is especially crucial in Southern California, where everything from earthquakes to coastal erosion can hit your home or business. These same forces can also damage your current retaining wall. FOUNDATIONS ON THE LEVEL can build you a retaining wall or repair your existing one.
Is Your Retaining Wall Failing?
Changes to the soil that the retaining wall is supporting, often caused by significant weather events, can change the pressure being applied on the wall by the soil. For instance, droughts might cause the soil to shrink, resulting in voids forming. Situations such as this are among the primary causes of retaining wall damage.
But how do you know if your retaining wall is in need of repair, or even in danger of complete failure? There are certain signs that you should watch out for.
Check for basic signs of damage. Is the wall buckling or tilting? Are cracks starting to form? Is the wall separating from the soil behind it?
If your answer to any or all of these questions is yes and you live in San Diego or Orange County, contact the professionals at FOUNDATIONS ON THE LEVEL for a free estimate.
How To Repair Retaining Walls
Rather than waiting for the damage to become severe enough where the entire wall needs to be replaced, at FOUNDATIONS ON THE LEVEL we have a proactive solution that anchors the wall deeper into the soil behind it.
Helical Tiebacks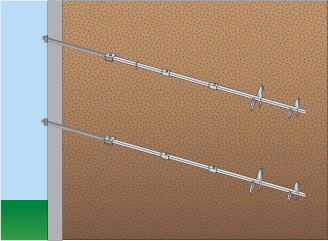 We use helical tiebacks from the lead foundation repair product supplier, ECP (Earth Contact Products), to repair the retaining walls without having to replace the entire area.
These tiebacks work a lot like large steel screws that are installed through the retaining wall into the ground.
We can install the tiebacks with lightweight drilling equipment and do so in a manner that causes little disturbance to the job site. Screwing the tiebacks into the ground causes little to no vibration.
Once installed, the tiebacks anchor the wall deep into stable soils and apply opposite pressure that keeps the wall from bowing outward. We can install the tiebacks both vertically and horizontally to give the wall plenty of stability for years to come.
Choose FOUNDATIONS ON THE LEVEL
If you have any questions either call us or contact us to set up your free estimate. At FOUNDATIONS ON THE LEVEL, we have years of experience fixing retaining walls and look forward to making sure yours will stand strong for years to come.