Home > Service Area > Aliso Viejo
Foundation Repair & More in Aliso Viejo, Ca
Foundation Repair Aliso Viejo
Homeowners in Alisa Viejo may experience some issues with their foundation. FOUNDATIONS ON THE LEVEL can offer professional foundation repair services if you notice problems like the ones listed below.
Sticking doors or windows or gaps between the frames
Sloping or uneven floors
Leaning or bowing walls
Cracks in ceilings, walls, or floors
Flaking or crumbling foundation
These concerns in your Aliso Viejo home can be caused by droughts or heavy rains, earthquakes, poor drainage, or poorly compacted soil. If you find any of the situations, contact FOUNDATIONS ON THE LEVEL as soon as possible. It is urgent that these problems are dealt with quickly, so as to minimize the damage that is occurring. Compromised foundations can lead to serious damage to your home and we can help stabilize your structure and give you peace of mind.
Crack Repair in Aliso Viejo, CA
We have many years of experience in crack repair at FOUNDATIONS ON THE LEVEL and we want to use that expertise, in combination with our quality products, to give you the best service possible. We have found the best method for crack repair is to use Roklin Dual Component Epoxy to seal and close the crack. After the crack has been shut, we then stitch the sealed gap with Fortress Carbon Fiber Staples, permanently sealing the crack and allowing you to cover the area with flooring, if you prefer.
Slab Leveling in Aliso Viejo, CA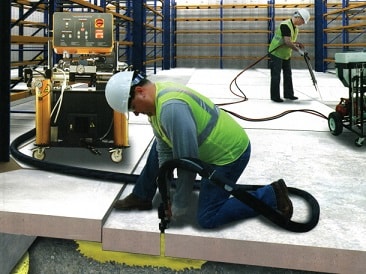 You may want to dismiss that uneven concrete slab as just an eyesore, but it can be a tripping hazard and, if left alone, may become worse. Protect your family and guests from stumbling and possibly injuring themselves by having our professionals at FOUNDATIONS ON THE LEVEL come out and fix your slab. We can repair any concrete work you have from driveways to garage floors to patios and everything in between.
Over the years, we have found the best solution is Low-Density Water Blown Spray Foam from Arnco Performance Polymer. We inject the foam under the slab, filling in any gaps and raising the concrete to its original level. This method requires no demolition and is fast and effective, without disturbing the rest of your property. To learn more about this product, contact FOUNDATIONS ON THE LEVEL today.
Let us show you why we have a strong reputation in Orange County for quality products and outstanding customer service. FOUNDATIONS ON THE LEVEL wants to be your number one provider for all of your home repairs in Aliso Viejo, CA.