Landslides and Foundation Problems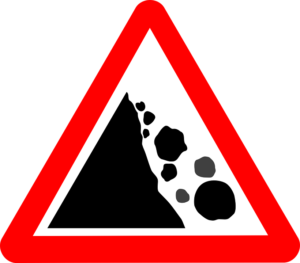 California has been no stranger to weird weather and other natural occurrences this last year. After wildfires have removed most of the plant life protecting the earth from erosion, record-breaking rainfalls have been taking place. Landslides and other disasters have occurred throughout the state.
This mixture of events can cause a lot of problems for roads and structures around the area. The slides can consist of rockfalls, mudflows, slope failures, and more and can happen anywhere there is a slope gradient, it doesn't have to be steep, just enough for gravity and momentum to do their thing.
Extreme Damage Caused by Slides
Slides can be tremendous forces of nature, destroying roads, moving vehicles, and leveling buildings. The slide can also pick up trees, objects, and debris, causing damage and blocking waterways which can result in flooding. Mudflows in Southern California in 2018 caused an estimated $177 million in property damage, $7 million in emergency responses, and $43 million in clean up costs, in addition to causing 21 reported deaths and over 150 people being hospitalized.
Landslides and Your Home
Your home may be strong and the foundation stable, but if a landslide were to occur, your house may be in danger. FOUNDATIONS ON THE LEVEL can help protect your home and repair any damage that may occur from a landslide or mudflow.
Foundation Repair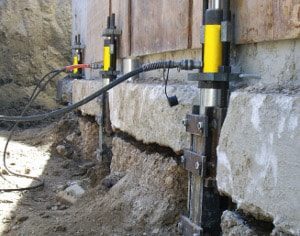 Any type of movement of the earth around your home can damage the foundation. A settling or sunken foundation can lead to structural damage throughout the house. The landslide can remove support from one side of your home or exert great pressure on another side.
You may notice cracks, bowing walls, and other signs of foundation problems after a slide. Don't waste any time having it inspected. The stability of your entire home depends on having a strong foundation. Make sure that a reliable foundation contractor examines your property and you follow through with any suggestions that they may make.
Slab Leveling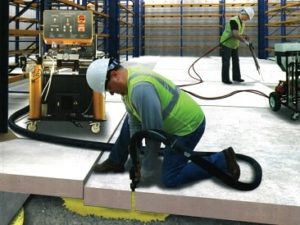 Not every landslide causes foundation problems, sometimes it may just disturb your concrete slabs. Your driveway, sidewalk, or patio can be pushed out of place or sink.
An uneven slab is not only ugly, but it can be a tripping hazard or not allow water to drain correctly. Water may flow towards your home or cause the soil under the slab to erode, leading to more problems.
FOUNDATIONS ON THE LEVEL can make sure that your slab is level and safe through the application of polyurethane foam. The foam will expand, raising the slab to the desired level and sealing the bottom from any water infiltration. Protect your home and guests from an uneven slab.
Crack Repair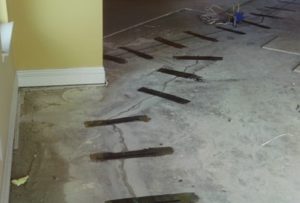 If the earth around your home moves, you may notice cracks in floors, walls, and ceilings. There are two kinds of cracks: structural and settlement cracks. You can look for cracks and monitor if they are growing. If you are at all concerned about a crack, you must contact a reputable foundation contractor like FOUNDATIONS ON THE LEVEL.
One of the problems with cracks is that, if you aren't knowledgeable about their cause or what they can do, you have no idea if it is something cosmetic or a sign of future foundation collapse. However, even if a crack isn't a structural issue, it can allow water and pests to enter your home. You must have the cracks taken care of.
Retaining Wall Repair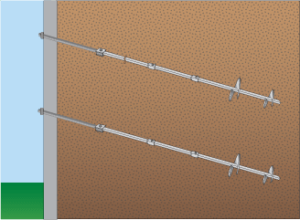 Your retaining wall has one job: to keep the earth on the other side of the wall in place. If a landslide occurs, it can cause the retaining wall to lean or bow, or in a worst-case scenario, to even fail.
FOUNDATIONS ON THE LEVEL can keep your retaining wall strong and stable. Through the use of helical tiebacks, a leaning retaining wall can be pulled back and be stronger than ever.
A retaining wall protects your property, so make sure that you take care of it!
Foundations on the Level and Slides
There is only so much you can do to try and tame Mother Nature, sometimes she will just do what she wants. Let FOUNDATIONS ON THE LEVEL help you keep your property safe before or after a landslide.

Contact us today to learn more about all the services we offer in Orange County and the surrounding area.