Home > Service Area > Newport Beach
Foundation Repair & More in Newport Beach, Ca
Foundation Repair Services
If you are in need of professional foundation repair services for your Newport Beach, California home or business, then you should contact FOUNDATIONS ON THE LEVEL. Many homeowners in Newport Beach have reported problems with their foundation. Here are a few things you should look for:
If you encounter any of these signs, give the experts at FOUNDATIONS ON THE LEVEL a call. Our highly trained repair team will inspect your home and provide you with a solution for your foundation issue.
Slab Leveling in Newport Beach, CA
An uneven concrete slab can be a headache, not to mention a tripping hazard. Our team of professionals can repair any concrete surface you have, whether its a patio, porch or driveway. FOUNDATIONS ON THE LEVEL is proud to use Arnco Performance Polymers' Low-Density Water Blown Spray Foam. By injecting this foam under your concrete, we can fill the voids underneath, raising your slab to the desired height. Contact us today to learn more about this incredible product.
Crack Repair in Newport Beach, CA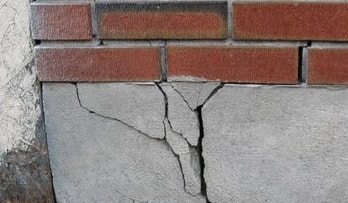 A crack may not seem like a big deal, but water and insects only need a barely-visible crack to gain entry into your home. Repairing a crack with an off-the-shelf item may seem like a money-saving idea, but it's like putting a bandage on a bullet wound. There is a cause for the crack, and that needs to be addressed. The experts at FOUNDATIONS ON THE LEVEL will inspect the crack and determine the best way to repair it. It is better to tackle a small problem before you have to deal with a big one. We use Roklin Dual Component Epoxy to seal the crack and then Fortress Carbon Fiber Staples are used, keeping the crack shut and allowing you to install flooring over it, if desired.
FOUNDATIONS ON THE LEVEL is proud to be a Preferred Installer of Earth Contact Products, providing you with unmatched service combined with quality products. If you are in need of any foundation repair, slab leveling or crack repair in Newport Beach, contact us first.