Best Foundation Raising Solutions in CA
Due to the prevalence of slab foundations in California, foundation sinking and settlement are common issues. These issues occur when the soil under the concrete foundation shifts, allowing voids to form in the soil. The voids do not offer adequate support for the foundation, and it settles unevenly as a result. Soil shifts due to earthquakes, erosion, or soil shrinkage can also cause concrete foundations to sink or settle. However, FOUNDATIONS ON THE LEVEL can fix these issues with foundation raising solutions. Read on to learn more about the foundation best foundation raising options for California homes and find out how we can help.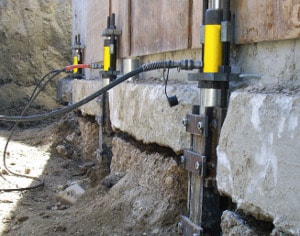 Resistance piers are commonly used to fix settling foundations. The piers are driven into the soil under the concrete foundation and then hydraulically lifted to raise the foundation back to its original level. We use steel resistance piers from ECP (Earth Contact Product), one of the top manufacturers in the country. They offer both concentric piers, which are installed directly beneath the footing or load, and eccentric piers, which are installed to the side of the structural load. Give us a call to see if ECP steel resistance piers are the right choice for your foundation raising needs.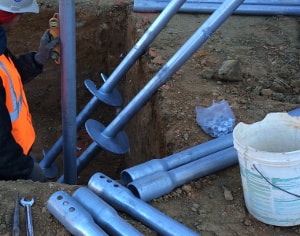 Helical pier installation is another type of underpinning that can help raise and stabilize sinking foundations in California homes and businesses. These piers work much like resistance piers but have threads on them that allow them to be screwed into the ground instead of merely driven in. ECP helical piers are a great choice to resist both tension and compressive force and are commonly used in utility and civil construction projects, but can also be used in residential projects. A major benefit of these piers is that they can be used for foundation raising without causing a lot of disturbance to your yard and property.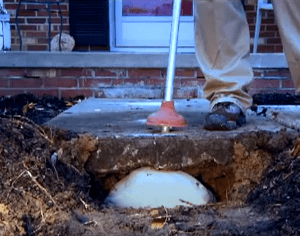 If you have a concrete slab foundation, polyurethane foam slab releveling may also be an option. This option works best on concrete slabs like garage floors, driveways, sidewalks, and patios. For this solution, we utilize Accella Polyurethane Systems, a low-density, water-blown spray foam that is injected underground through small holes drilled in the slab. The foam expands when it is injected to raise and stabilize the slab above. This solution returns the slab to normal in no time and helps stabilize the soil around the slab to prevent future settlement.

We proudly offer both underpinning and polyurethane foam injection to raise and level concrete slabs and concrete foundations in California. Contact FOUNDATIONS ON THE LEVEL today to find the right foundation raising solution for you.