Home > Common Structural Problems > Foundation Settlement & Sinking
Foundation Settlement & Sinking In San Diego, Ca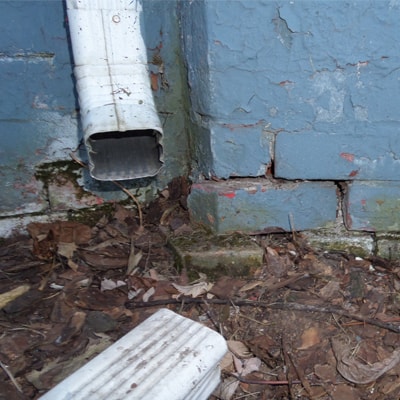 There are numerous factors that lead to foundation settlement and sinking in Southern California. Anything from too much water to not enough, inadequate drainage, landscaping, and faulty plumbing can all lead to settlement. We all know that purchasing a home is one of the most important investments we'll make, that's why it is imperative to maintain a healthy foundation. Regular foundation maintenance and inspections can eliminate a surprise problem and save you time and money. The main signs to look for if you are checking for foundation settlement and sinking are:
Cracking Concrete Slab/Floor
Drywall Cracks
Cracks Around Doors and Windows
Misaligned Doors and Windows
Leaning Chimneys
Stair Step Cracks in Brick/Concrete Block
At FOUNDATIONS ON THE LEVEL, we too are concerned about your California home's foundation. A weakening foundation will most definitely impact the value of your home negatively and cause worry. If you notice any of the above foundation settlement signs, the best thing for you to do is call us and we will come to inspect your home and devise a plan to repair your problem.
Reliable Foundation Settlement Repair
As an authorized Earth Contact Products installer, FOUNDATIONS ON THE LEVEL has years of experience in the foundation repair field. Our trained foundation repair technicians specialize in deep foundation repair, slab releveling, and structural repairs such as wall and floor cracks.
A settling foundation will never fix itself and will continue to worsen if ignored which exposes you to property damage. In extreme cases, homeowners have waited so long to call for a repair that entire basement walls have collapsed, which resulted in an unlivable home. A settling and sinking foundation has to be dealt with. As industry experts, we know how to handle all kinds of foundation problems and will do so efficiently and accurately. Fixing the problems now will provide you with the security needed to live worry-free, knowing your greatest investment is secure and fully useable.
Get your free foundation report and C.A.D. plan. (Only free for property owners). 760-889-8150