Helical Tieback Anchors: Immense Strength for Your Retaining Wall
Why Helical Tieback Anchors are Your Best Repair Solution
Not only do retaining walls add beauty to any home or business they also serve a very important function: retaining walls keep soil from sliding downhill. If you have a retaining wall on your Southern California property, and you have noticed signs of failure such as cracking, tilting, bulging, or leaning, it is time to take action to prevent retaining wall failure. Helical tieback anchors may be the answer.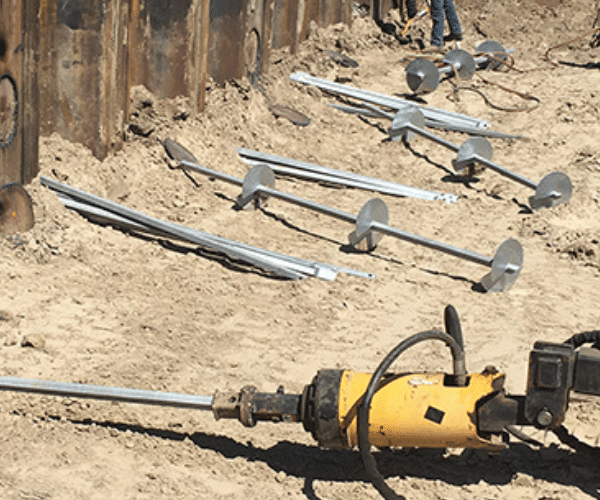 What are Helical Tieback Anchors?
Helical Tieback Anchors are screw anchors. They are designed to stabilize foundations or retaining walls, reducing the future risk of horizontal movement. Tieback Anchors used by Foundations on the Level are the best repair solution to solve any type of failure you may be experiencing.
How do They Work?
Foundations on the Level can use helical tiebacks to pull back and add strength to leaning retaining walls. We install helical tiebacks into retained soil with our portable and lightweight drilling equipment. Once the tiebacks retain the right capacity ratio of the soil strength, they are tensioned and put in place. Some advantages of using this process include:
Helical tiebacks offer immense strength and capacity to shore up a slope and stabilize a retaining wall
Weather conditions during installation and after have no effect on tiebacks
No need for curing time or cleanup after installation is complete
Quick and simple installation process
Tiebacks can be extracted for future project use
Put the Strength of Helical Tieback Anchors to work for you
No matter what type of retaining wall problem you might have, including wall failure, Foundations on the Level can help. We repair retaining walls with Helical Tiebacks as well as build new retaining walls. In addition, we utilize the most advanced products and solutions for foundation repair and structural support available in today's market. If you notice signs of retaining wall failure, call us today at 760-889-8150 or contact us for a free estimate.