Home > Common Structural Problems > Basement & Crawl Space Problems
Basement & Crawl Space Problems
You may not spend a lot of time in your basement or crawl space, but perhaps you have noticed that your beams or posts are leaning and bowing. This can be a serious indicator of foundation failure. When a foundation is uneven, everything that rests on it will become uneven as well.
If your beams and posts are cracking, bowing, or leaning, you need to get your basement inspected as soon as you can. Signs like these can point to serious structural damage that may be occurring in your home. Call one of our professionals at FOUNDATIONS ON THE LEVEL to inspect your foundation today and see if you are in need of foundation repair.
If leaning or bowing beams and posts in your home are making you suspicious of foundation failure, be on the lookout for the following signs:
Leaning chimney
Cracks in walls and floors
Porch steps pulled away from the stoop
Cracks in the ceilings
Sticking doors and windows
Misaligned trim
Foundation cracks
These signs can also indicate foundation failure, and if you have noticed one or more of them, you should definitely look into foundation repair. Foundation failure will decrease the value of your home, as well as cause an unstable environment for you and your household. If you have noticed any of these signs, call FOUNDATIONS ON THE LEVEL right away. We can ensure you with a safe and strong foundation for years to come with our professional expertise, top quality equipment, and unbeatable products.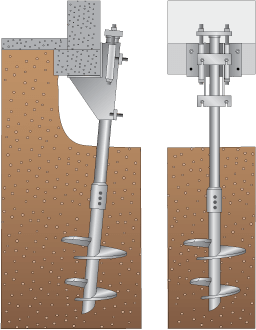 Foundation Repair in Southern California
Don't wait any longer to get your foundation repaired. Foundation damage doesn't fix itself, in fact, it will only get worse over time. Protect the structural stability of your home by getting your foundation repaired by FOUNDATIONS ON THE LEVEL today. We install helical piles and resistance piers to raise and level your sinking foundation. Our contracting company is fully licensed and all of our installments are covered under a 25-year warranty. All of our products are manufactured by the leader in the industry, Earth Contact Products.
No matter what foundation problems you have in your Southern California home, FOUNDATIONS ON THE LEVEL has the perfect solution for you. We can inspect your foundation and give you a customized repair method that fits your budget and your needs. Don't hesitate to call us with any questions you have about foundation repair in Orange County and San Diego County. We are happy to help!