Home > Common Structural Problems > Porch Step Problems
PORCH STEP PROBLEMS IN CALIFORNIA
Do your front porch steps pull away from your stoop? Maybe you have noticed cracks and voids on your stairs as well. Not only do they take away from the curb appeal of your home, but they can also cause a tripping hazard for you and your guests. Problems with your stairs and stoop most likely stem from foundation failure.
The foundation can shift and settle over time due to moisture levels in the soil. When the soil is wet, it will expand, and when it is dry, it will shrink up again. This fluctuation of the soil can cause your foundation to raise and settle. Foundation settlement can also occur if your foundation wasn't properly installed when your house was built.

When your foundation sinks and settles, it can cause a multitude of problems in your home. Be on the lookout for the following symptoms when inspecting for foundation failure: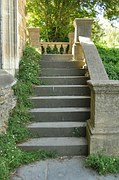 Cracked Drywall
Misaligned Trim
Voids in the Foundation
If you have experienced any of these issues, you should get your foundation inspected and repaired by a professional as soon as possible. Problems with your foundation will only get worse over time, so it is important to have repairs implemented as soon as you discover an issue.
Foundation Repair Solutions for Stair & Stoop Problems
FOUNDATIONS ON THE LEVEL has just the right expertise, equipment, and products to guarantee you with a stable foundation that will last for many years.

We specialize in installing resistance piers and helical piles to raise and steady your foundation. All of our products are manufactured by Earth Contact Products – the number one manufacturing company in the foundation repair industry. No matter what foundation repair needs you may have, FOUNDATIONS ON THE LEVEL is ready to help. We are fully licensed and provide 25 year warranties with all of our installments. Our goal is to be a company that you can trust and we truly care about our clients and their homes.

To learn more about the services that we offer in Southern California, call FOUNDATIONS ON THE LEVEL today. We look forward to giving you a strong foundation that will keep your home safe and sound for years to come!