When You Need Slab Leveling in Orange County
In Orange County, California, many of the structures have concrete slabs underneath them since slab foundations are the norm in the state. Because of the large number of businesses, workshops, stores, restaurants with patios, etc., this increases the number of concrete slabs in the area.
Have you noticed your concrete slabs sinking recently? If you think that your concrete slabs – home foundations, garage or workshop floors, driveways, sidewalks, patios – need concrete slab leveling services for your Orange County property, look for the following symptoms: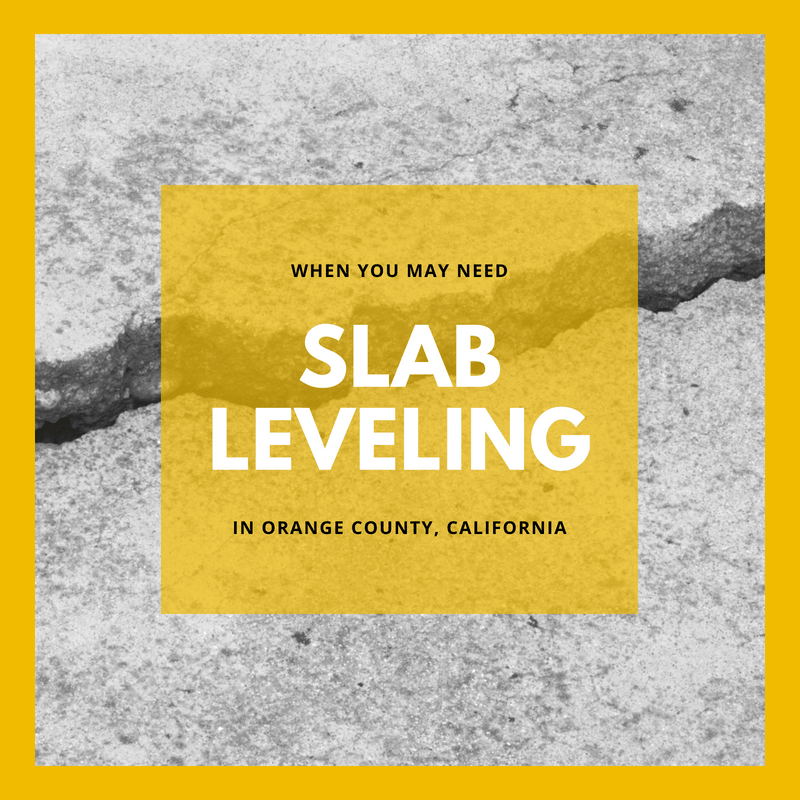 Cracks and separation: If the slab has large cracks or gaps in the seam in it and they are pulling apart, it may need slab leveling.
Visible movement or settlement: Any signs that the slab has started to sink or settle unevenly mean it probably needs to be lifted.
Warping, lifting, or sagging floors: If you have a slab foundation, warping or sagging floors could be a sign of foundation movement.
Cracks around windows and doors: Cracks in your home, especially around windows or doors, may indicate slab settlement. Misaligned windows or doors might also be a sign of settlement.
Porches or structures pulling away from slabs: If the home, garage, or another nearby structure is pulling away from a slab, it may mean you need polyurethane slab repair services.
Heaving or sinking slab sections: Slab corners often sink when underground voids form, meaning they need slab leveling.
Tripping hazards: Has anyone tripped due to uneven slabs? That is a sign that the slab has settled and needs to be leveled.
If you see any of these issues in your concrete slab, you may require slab leveling services. We offer polyurethane injections to lift and level slabs. In this process, small holes are drilled into the slab and then a polyurethane grout is injected under the slab to fill underground voids and lift the concrete.
Where Slab Leveling Can Be Used in Orange County, CA
We can use this process to fix all different kinds of slabs, including:
Porches and Patios
Warehouse, Shop, Garage Floors
Sidewalks
Driveways
Concrete Pool Decks
House Foundations
Commercial Foundations

If you notice problems like those listed above in any of these kinds of slabs, call FOUNDATIONS ON THE LEVEL right away.