Foundation Repair in San Diego
San Diego homeowners can experience foundation issues without even knowing it. Water damage, soil erosion, and weakening with age can all create foundation problems that put your home at risk for structural damage. FOUNDATIONS ON THE LEVEL has a team of experienced and knowledgeable foundation repair contractors who are here to help you with your foundation repair needs.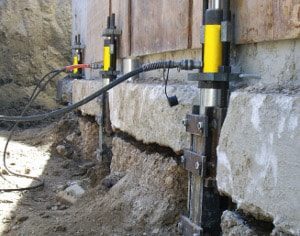 Signs of Foundation Issues in San Diego
If your home in San Diego has any of the following signs, you should call our foundation repair contractors today.
Bowing or Leaning Walls
Wall or Floor Cracks
Gaps and Spaces
Uneven or Sloped Floors
Sticking Windows or Doors
Stair and Stoop Separation
Ceiling Cracks
Foundation Crumbling or Flaking
Why Choose Foundations On The Level in San Diego
FOUNDATIONS ON THE LEVEL only installs the best products in the market, manufactured by the leading companies in the engineering world. Some of these companies include Earth Contact Products (ECP), Fortress Stabilization Systems, and Roklin Systems Inc. We are California's experts in pile driving and foundation jacking. We have a Specialty D-30 Contractor license from the State of California, and all of our installations come with a 25-year warranty.

FOUNDATIONS ON THE LEVEL knows that no two foundation problems are the same. We value your home, so our contractors offer personalized and quality service that our customers deserve. Our foundation repair contractors are here for you.