Foundation Repair in Southern California
Many people in the Southern California area have homes and businesses with foundation problems. Don't let the problems go unrepaired, they won't heal themselves. The bigger a foundation problem goes, the more time and money it will take to repair the damage and reverse any problems that have occurred. When it comes to foundation repair in Southern California our team has solutions for your problem AND your budget.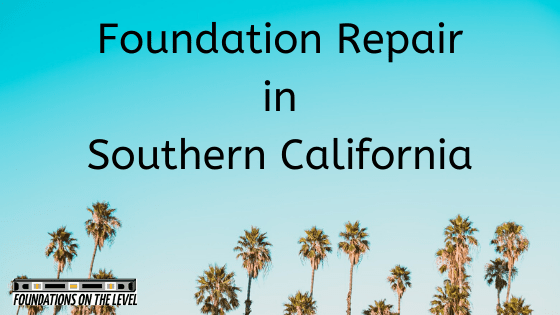 Warning Signs Your Home Needs Foundation Repair
Foundations rarely fail without some type of warning. There are some things that can alert you to issues with your foundation.
Cracks in exterior walls
Cracks in interior walls
Cracks in foundation walls
Gaps between walls, floors, and/or ceilings
Sticking doors and windows
Sloping or uneven floors
These types of things are big red flags that your Southern California home or business is in immediate need of foundation repair. Don't wait until the problems get worse, contact the foundation experts at FOUNDATIONS ON THE LEVEL today!
Our team of professionals will inspect your property, determine the cause of the foundation problems, and provide you with a free quote for the repair that is needed. We customize every solution to fit the building and situation, making sure the repair is done right the first time.
Causes of Sunken Foundations in Southern California
There are many reasons why a foundation may begin to sink or settle. This can happen soon after construction or there may be no problems for decades and then you begin to notice signs of sinking foundations.
The most common cause is normal changing soil conditions. As we all know, Southern California seems to be the Home of Nature Events and many of them can cause foundations to settle.
If the moisture level in the soil wavers between dry and wet, it can cause the foundation to crack, shift, or settle. Think about it like bending a piece of metal back and forth until it breaks. The same happens with foundations. The soil expands and contracts, moving the foundation back and forth until something gives.
Other causes of sunken foundations in Southern California include:
Excessive Moisture
Extensive Landscaping
Drought Conditions
Seismic Activity
All of these can act alone or in concert to put tremendous pressure on your structure's foundation. This pressure can weaken and damage the foundation, causing problems from the basement all the way to the roof.
Solutions for Foundation Problems in Southern California
FOUNDATIONS ON THE LEVEL is proud to use foundation repair products from Earth Contact Products (ECP). Our American-made tools will raise and level your foundation, providing you with lasting results you can trust.
Resistance Piers
ECP's patented piers are the industry standard for all piering methods in the foundation repair industry. Resistance piers are driven into the ground until they reach soil that is firm enough to support the structure. There are two basic engineered designs of the ECP pier: Concentric and Eccentric.
Concentric pier installs directly below the footing or load.
Eccentric pier installs to the side of the intended load of the structure.
Helical Piers
Earth Contact Products helical piers are screwed into the ground until a strong enough base is reached. These piers have been used in commercial and municipal applications for years, but have just recently been adapted for use in residential settings.
Repair Your Foundation Today
Don't wait another day to have your foundation repaired. Contact FOUNDATIONS ON THE LEVEL today. We service Orange and San Diego Counties with premium repair services.
We look forward to making your foundation level and stable again.